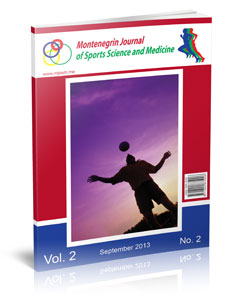 Dear Readers,
I would like to extend a very warm welcome to the readership of the Montenegrin Journal of Sports Science and Medicine (MJSSM). I take this opportunity to thank our authors, journal board members and anonymous reviewers, all of whom have volunteered to contribute to the success of the journal. I am also grateful to my close colleagues, Dr. Stevo Popović from University of Montenegro, Dr. Selçuk Akpınar from Nevşehir University and the staff at Montenegrin Sports Academy (MSA) for making the Journal a reality.
I would also repeat something I said many times that we could not envisage starting this journal without the support and professionalism of scientists interested in sport science and sport medicine including physiology and sports medicine; social sciences and humanities; biomechanics and neuromuscular and wishing to make this journal a success.
After three successful issues of the Journal, I can freely emphasize the compelling reasons for launching a new open-access journal in this ever-expanding area of research such as sports science and medicine, as well as to emphasize our aspirations and vision for the future. I must highlight it is more than beneficial to have a journal, which gives free access to its contents and promotes high-quality research and intellectual output of scientists who have limited access to mainstream journals in the past. Hence, we aim to bridge the gap so that authors get a wider audience for their high-quality scientific achievements. I also believe we will be increasing the number of high-quality original research article and scientific reviews, notes, preliminary communications and conference papers from authors around the world, as well as editorials, a "letter to the editor" section, abstracts from international and national congresses, panel meetings, conferences and symposia, and be able to continue functioning as an open discussion forum on significant issues of current interest.
Finally, we wish to encourage more contributions from the scientific community and industry practitioners to ensure a continued success of the Journal. Authors, reviewers and guest editors are always welcome. We also welcome comments and suggestions that could improve the quality of the journal.
Thank you and we hope you will find the Journal informative enough,
Sincerely Yours,
Editor-in-Chief
Prof. Duško Bjelica, PhD
Current Issue