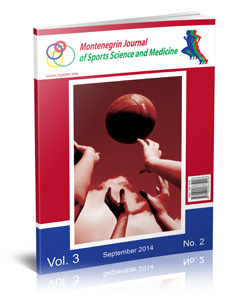 Dear Readers,
If ever a field needed greater attention and more outlets for theory and research, sports science and sports medicine is it. The proportion of sports science and sports medicine related journals to overall journals are negligible (just 81 recognized by Web of Science in 2014). The proportion of sport science to all other fields is overwhelming as is the contribution of sports science and sports medicine to the development of the sports systems worldwide. It is with this in mind that we ship on this journey of discovery and trigger a new scientific journal: Montenegrin Journal of Sports Science and Medicine.
Over the past three years, the journal has undergone a major change. Hence, important to its continuing growth, regular and timely publication has been ensured. On a positive note, there has been a steadfast increase of articles received for publication indicating a growing interest among researchers to publish their work in our journal. The journal has published per issue, an average of five articles of mixed variety, from authors from Croatia, USA, Sweden, Portugal, Spain, Austria, Switzerland, France, Czech Republic, Turkey, India, Serbia, Japan, Brazil, as well as from Montenegro.
The editorial board has taken an initiative in the direction of indexing the journal. The journal has also employed a team of editors to strengthen the process of indexation. It was represented by Assist. Prof. Stevo Popovic, PhD and Assist. Prof. Selçuk Akpinar, PhD. The strengths and weaknesses of the journal were highlighted by the committee. A few recommendations were made to increase chances for a successful indexation, especially in Thomson Reuters and Scopes databases (still under evaluation). These include the need for a more constant editorial board and to include, in the board, members from as many participating countries as well as renounced researchers from the larger international world; and the need for a more regular of at least a quarterly publication per year.
I would also remind all authors that Montenegrin Journal of Sports Science and Medicine provides an ideal forum for exchange of information on aspects of sports science and medicine; all clinical aspects of exercise, health, and sport; exercise physiology and biophysical investigation of sports performance; sport biomechanics; sports nutrition; rehabilitation, physiotherapy; sports psychology; sport pedagogy, sport history, sport philosophy, sport sociology, sport management; and all aspects of scientific support of the sports coaches from the natural, social and humanistic side, in various formats: original papers, review papers, editorials, short reports, peer review - fair review, as well as invited papers and award papers.
Finally, we wish to encourage more contributions from the scientific community and industry practitioners to ensure a continued success of our journal. Authors, reviewers and guest editors are always welcome. We also welcome comments and suggestions that could improve the quality of our journal.
Thank you for reading us and we hope you will find this issue of MJSSM informative enough.
Editor-in-Chief
Prof. Duško Bjelica, PhD
Current Issue