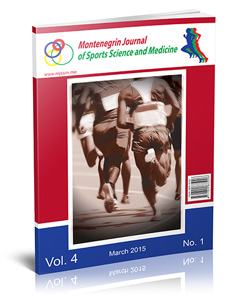 Dear Readers,
It is not news that the world is currently in a state of tremendous turmoil. For many of us it is a toxic world. Since our mission is to serve children, youth, families, communities, and school personnel from around the world, we do believe that you will find the Montenegrin Journal of Sports Science and Medicine to be fertile ground for offering assistance to others via the generation, dissemination, and preservation of findings from front-line research. On the other hand, the science is the fuel of progress, in the sports sciences, medicine, and much wider and we have to use this opportunity to spread out the best ideas and make this World better, mostly due to the reason the industrialization and technological advancement has adversely affected our environment and lifestyles that has manifested in new types of diseases and ailments, which poses a challenge not only to medical but also to sociological, psychological and more related fraternities. Hence one needs to do specialization and also acquire certain skills in advanced technologies, necessary to operate and use sophisticated equipment's, which not only help in exact diagnosis of the subjects in need but also provide options to use non-invasive methods of treatment and also increase healthy lifestyles dramatically. Maximum improvement of health and relief from suffering within available resources should be our main goal.
I would also remind again all the potential authors that Montenegrin Journal of Sports Science and Medicine also provides an ideal forum for exchange of information on aspects of sports science and medicine; all clinical aspects of exercise, health, and sport; exercise physiology and biophysical investigation of sports performance; sport biomechanics; sports nutrition; rehabilitation, physiotherapy; sports psychology; sport pedagogy, sport history, sport philosophy, sport sociology, sport management; and all aspects of scientific support of the sports coaches from the natural, social and humanistic side, in various formats: original papers, review papers, editorials, short reports, peer review - fair review, as well as invited papers and award papers.
In recent years, the Montenegrin Journal of Sports Science and Medicine has continued to show important advances in both the content and quality of its published articles, and the volume of submissions has increased substantially. Since the end of 2014, over 60 manuscripts have been processed (peer- and editorial-reviewed, and accepted or rejected). Now indexed in 29 databases, Montenegrin Journal of Sports Science and Medicine has kept recognition as one of Montenegrin leading scientific journals in the area of sports science and medicine. This is reflected in its MR4 status, as recognized by the University of Montenegro, the Department specialized for the classification of scientific publications. Additionally, Montenegrin Journal of Sports Science and Medicine has earned a current score of ICV 6.17, as reported in the IC Journals Master List 2013. As a consequence of these accomplishments, on behalf of our authors, journal board members and anonymous reviewers, all of people who have volunteered to contribute to the success of the journal, I have a pleasure to invite additional members to join us in an effort to make the Montenegrin Journal of Sports Science and Medicine widely recognized international publication.
Finally, we wish to encourage more contributions from the scientific community and industry practitioners to ensure a continued success of our journal. Authors, reviewers and guest editors are always welcome. We also welcome comments and suggestions that could improve the quality of our journal.
Thank you for reading us and we hope you will find this issue of MJSSM informative enough.
Editor-in-Chief
Prof. Duško Bjelica, PhD
Current Issue