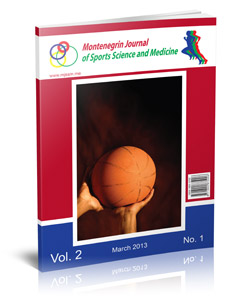 Dear all,
I regard my appointment to the post of Editor-in-Chief of such an authoritative journal as the Montenegrin Journal of Sports Science and Medicine (MJSSM) as a great honor and serious responsibility.
For its more than year existence, the journal has become the undoubted leader among periodicals in the field of sports science and medicine in the region and wider. It is the fact that the journal has a constantly extending circle of readers in our country; being issued every half an year in English, it has long surpassed the boundaries of Montenegro and many foreign readers more often visit our official website as well as subscribe for the print version of the journal. In addition, it is also worth to mention that articles published in the journal arrive from leading scientists and specialists from all continents and it is currently indexed in five international bases, such as Genamics Journal Seek, Index Copernicus, SafetyLit, EBSCO Publishing Inc. and Ulrich's, while some further index bases are still pending.
From all mentioned above, I do believe that our journal will continue publishing high quality original scientific papers, notes, preliminary communications, reviews and conference papers in the fields of Sports Science and Medicine, as well as editorials, a "letter to the editor" section, abstracts from international and national congresses, panel meetings, conferences and symposia, and function as an open discussion forum on significant issues of current interest.
I hope that readers will find many interesting things about the progress of sports science and medicine and will encounter useful ideas that will assist in tackling new problems in these multidisciplinary scientific fields.
Sincerely Yours,
Editor-in-Chief
Prof. Duško Bjelica, PhD
Current Issue